Girls Who Code is a non-profit organization dedicated to closing the gender gap in technology. With the 40,000 girls regionally and growing, I have been excited to be apart of their 7-week summer programs for 10th-11th grade girls to learn 
coding and get exposure to tech jobs.
As a speaker for both New York City and Newark, New Jersey, my lesson included solving a problem by creating an web/mobile app with the best UX and storytelling practices using the latest Wireframes & Prototyping Planning Tools.
Using Hair Decoded as an example of developing an idea, I created an outline to help students bring their ideas from paper to prototype using industry standard tools like Balsamiq and Invision App.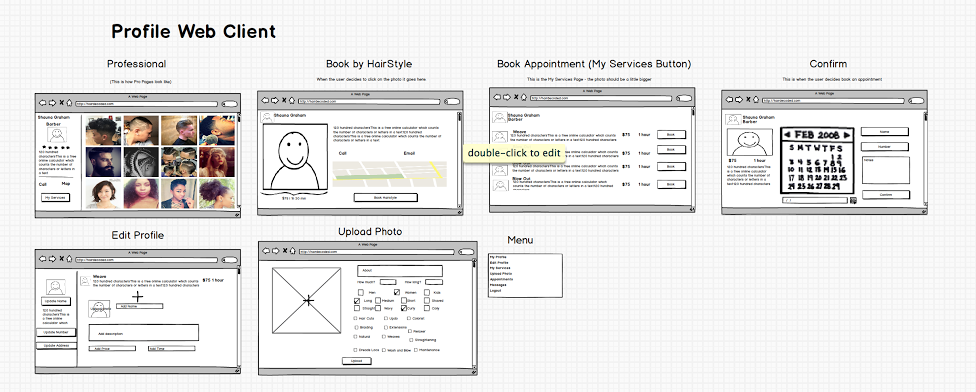 Based on the information you gave me, here is a draft outline of what I can provide within the time period provided. My goal is for the students to have a basic understanding on UX (User Experience) and Storytelling through the process of doing it themselves.
Working Title: Solving a problem by creating an web/mobile app with the best UX and Storytelling practices using the latest Wireframes & Prototyping Planning Tools
Summary: During this time period, the students are going to learn how to:
Come up with an idea that solves a problem
Develop and Plan a sotry scenario for their user to Develop a Web/Mobile App
Design a Mock Wireframe Prototype upon the ideas they came up with
The session will be divided into five sections after the introduction.
Introduction & Personal Story:
I will introduce what UX and Storytelling is and its importance in technology as well as how it can translate into any situation. I will tell them my story in how I came up with my app Hair Decoded and my journey in establishing a solid UX plan with wireframes and storytelling scenarios. I will pass out my journey in a folder for them to see my ideation to execution.
Phase 1: What is Your Idea or Problem?
All apps are developed because there are either loopholes in the market or a new inventive technology solution. I will provide examples of basic ideas on technology problems and the solutions that followed up with it. The students will then think up their own loopholes in the market or a new inventive technology solutions that can help the world.
Exercise: With a pen and partner, pick your favorite hobby and think of pain points or pick an issue and think of problems with it.
Example: I love to do yoga, but it hard for me to fit going to classes with my hectic schedule.
Hobby: Yoga
Pain Point: Can't practice because of schedule.
Another Example: I am a B student and I can't find scholarships for college. I am afraid I can not afford college.
Students will think for five to 10 minutes of either their hobbies and pain points or issues/problems.
After that, the students will tell everyone in the class what they wrote and share with everyone.
*Those without ideas will pair with someone with an idea. I also will have a list of ideas to give to students.
Phase 2: What is Your Solution or Story?
After the students relay their problem, they have to come up with a solution using a Mobile/Web App.
Exercise: Below your hobby and pain points or issues/problems, think of solutions that a mobile or web app help with.
Example: Create a Mobile App with a marketplace of Yoga Teachers to teach privately at your home or office Geo-Location anytime of the day.
Another Example: Design a website catered B students. A list of scholarships will only cater to B students.
Students will think of solutions using a mobile/web app to help assist is solving pain points or problems. Students will have about 5 minutes.
Phase 3: Pick Your Style in Prototyping.
This section will include bringing their ideas to paper or online. There are numerous tools, but I will give them three free online tools:
Mockups
GoMockingbird
wireframe.cc
Or they can use paper and pencil if they feel that fits them. I have used both and I will explain the differences of each.
Exercise: After explaining the tools, the student open their computers to pick a prototype tool or use the web/app template paper I will provide.
The students create accounts. This should take about 5 minutes.